Welcome to day 1 of the Girlie Grunge Blog Hop! We have 3 days of projects and inspiration all featuring Donna Salazar with Scrapbook Adhesives by 3L products, and 4 fabulous prizes to give away! Join us August 6-8, each day six of our talented designers will dazzle and amaze you with ideas for cards, scrapbook pages and mixed media projects, for crafters of all skill levels.
Daily prizes will be awarded, enter to win by commenting on the participating blog posts through the Rafflecopter app. We have three $30 value prizes, one will be awarded each day. Those that comment through the Rafflecopter app on each designer blog, each day, will be eligible for the Grand Prize, a $100 value, which includes the entire Donna Salazar with Scrapbook Adhesives by 3L® product line, an E-Z Runner® Grand, and a selection of Scrapbook Adhesives by 3L® adhesives. Remember to use the same email address for each comment so that we can verify eligible entries.
The Rafflecopter comments for this blog post will be open until August 7th, 11:59pm Central Time Zone.
This is the banner that I created for today's hop. I've got a video for you showing how I colored the canvas flags from my Pennant Set using our new Pigment Powders as well as how to create the little denim flowers with the ruffly background.
I've also got a photo tutorial below to show you how I made the Girlie Grunge ruffle using my organza ribbon from our new Texture Ribbons pack with the scallop edge ribbon from my Denim Ribbons pack.
I sewed my banner and flag pieces together before I added any embellishments. I cut a piece of the scallop denim from the Denim Ribbons pack to the same length as the banner. I cut a piece of organza ribbon from the Texture Ribbons pack that was twice as long as the banner.
I added a strip of Crafty Power Tape (about 1/4 inch from the bottom edge) the entire length of the organza ribbon.
I placed a string along the center of the organza then folded the ribbon over and adhered the edges so it created a channel for the string.
I then used the string to gather the organza until it was the same length as the denim ribbon.
I added Crafty Power Tape to the back of the denim ribbon.
I removed the backing from the Crafty Power tape then adhered the organza to the back of the denim ribbon.
I used the new Home and Hobby Premium Double Sided Tape 1/2" Permanent on the back of the organza because it is a little more heavy duty than the Crafty Power Tape.
Once the denim/organza trim was adhered to the banner I used a heat gun to slightly melt the organza and make it look more ruffled.
Product used (clickable links):
Scrapbook Adhesives by 3L®
Follow us: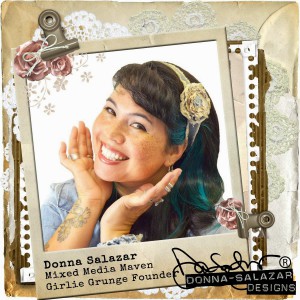 Here are today's hoppers!
August 6
Donna Salazar (that's me)
Thanks for Stopping by!!! Smooches ~D~
Where to find Donna: