Welcome to day 2 of the Girlie Grunge Blog Hop! We have 3 days of projects and inspiration all featuring Donna Salazar with Scrapbook Adhesives by 3L products, and 4 fabulous prizes to give away! Join us August 6-8, each day six of our talented designers will dazzle and amaze you with ideas for cards, scrapbook pages and mixed media projects, for crafters of all skill levels.
Daily prizes will be awarded, enter to win by commenting on the participating blog posts through the Rafflecopter app. We have three $30 value prizes, one will be awarded each day. Those that comment through the Rafflecopter app on each designer blog, each day, will be eligible for the Grand Prize, a $100 value, which includes the entire Donna Salazar with Scrapbook Adhesives by 3L® product line, an E-Z Runner® Grand, and a selection of Scrapbook Adhesives by 3L® adhesives. Remember to use the same email address for each comment so that we can verify eligible entries.
The Rafflecopter comments for this blog post will be open until August 8th, 11:59pm Central Time Zone.
Yesterday's banner was mostly girly with a little bit of grunge. Today's project has a little more grunginess added to it so it is a well balanced Girlie Grunge project.
I have a video tutorial for you today too! You can watch the video below to learn how I made the Pennant background, created the flowers, and added some extra little touches with my Lace Ribbons and Texture Ribbons.
Product used (clickable links):
Scrapbook Adhesives by 3L®
Follow us: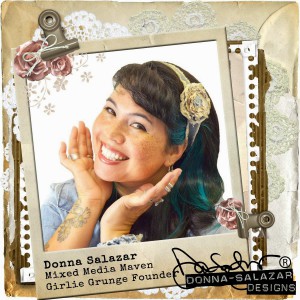 Here are today's hoppers!
August 7
Donna Salazar (that's me)
Thanks for Stopping by!!! Smooches ~D~
Where to find Donna: